High Level Cleaning Solutions
The health & safety of our employees and your staff, visitors and the general public are our number one priority. We have the resources to address all height and access issues associated with building cleaning and we always ensure that our work adheres to relevant health and safety legislation. Our operatives are fully trained and certificated in all working at height activities.
Gutter Cleaning
Regular gutter cleaning should be a priority for any building owner as full and overflowing gutters will cause you damp problems. Overflowing gutters often causes extreme damage to the façade of the building causing unsightly staining and giving the property a generally unkempt appearance. It can also cause internal damage causing damp and mould growth.
Regular gutter cleaning is recommended to alleviate these problems and the frequency would depend on where your property is located i.e. near trees including high pollen producing trees, sited below other properties or building etc. We can work with you to determine the correct frequency which can be from monthly, quarterly or even annually.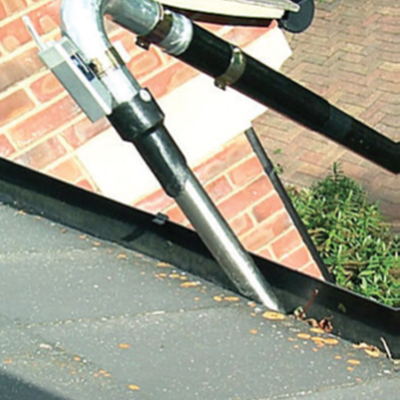 Dependant on the working height of the gutters we would clean using the following methods:
Space Vac Cleaning: to reduce the need for working at height we have invested in Space Vac, a high-level cleaning and inspection system. The system can be used to both inspect and clean gutters. The unit is lightweight which allows for easy movement to the required areas and can reach up to 7 metres. A remote camera allows for visual inspections prior to cleaning or to ensure the area has been cleaned sufficiently. The camera can also record the information, enabling us to send it to you along with a report of our findings.
Mobile Elevated Working Platform (MEWP): these vehicles are used to access the higher levels. Once in place the operator can clear the gutters by hand or in some cases utilise the space vac system for the more the difficult to access areas.
Ladder: This method is used less frequently due to the Working at Height Regulations 2005, however if there are short runs of gutters, at low-level, clearance by hand via ladders would be used.
Scaffolding: This can provide a cost-effective solution when carried out as part of other on-going works.
Commercial High-Level Window Cleaning
Using our fleet of mobile elevated working platforms, we can reach up to 46 metres and clean your windows as either a one off or on a regular programme of maintenance which meets your needs.