External Cleaning Solutions
We have a range of company owned equipment which can be used to tackle the expert cleaning of all external areas such as:
7.5 tonne road sweeper
On board industrial jet washing units, with own water supply with operating pressure up to 350 bar with both hot, cold and steam options
Whirlaway flat surface rotary cleaner
Billy Goat sweepers, both hand propelled and powered options
Hydraulic powered sweepers
Leaf blowers
Road Sweeping
This is the latest addition to our fleet and we can now undertake road sweeping and gulley clearance for those larger areas such as car parks, loading bays and distribution centres.
The Merlin Scarab XP is probably the most effective road sweeper available in the 7.5 tonne range and is used by many municipal and urban operators. It offers both dry and wet cleaning.
The main features are:
High performance picks up even on the most demanding tasks such as post construction or refurbishment works
Sweep width of 2.8 metres ensures superb coverage per hour
High capacity hoppers
Water systems and fuel tanks, designed to keep the Merlin Scarab XP working for longer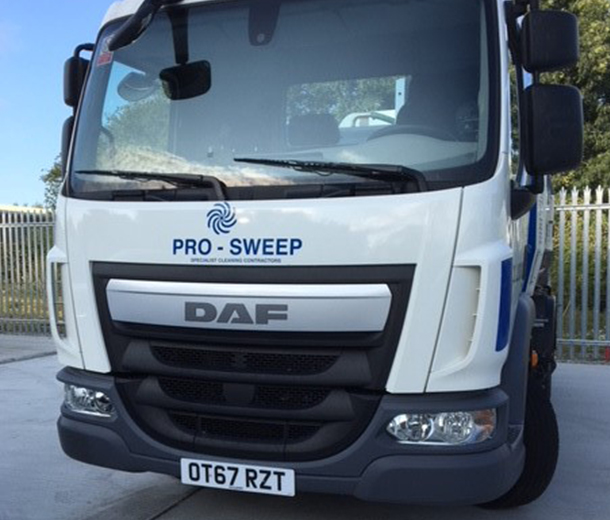 Power Sweeping
We operate a range of professional sweeping machines both powered and hand propelled which are ideal for cleaning pavements, block paved areas, yards and walkways without the need for chemicals. The hydraulic powered sweeper can be set to scrub the outdoor hard surface clean whilst maintaining a steady forward speed removing any moss and the debris in which the moss is growing. Moss and debris are collected in the collector box on the sweeping machine ensuring the surface is left clean and free from moss and debris. The hand propelled machines are particularly ideal for out of hours working in residential areas.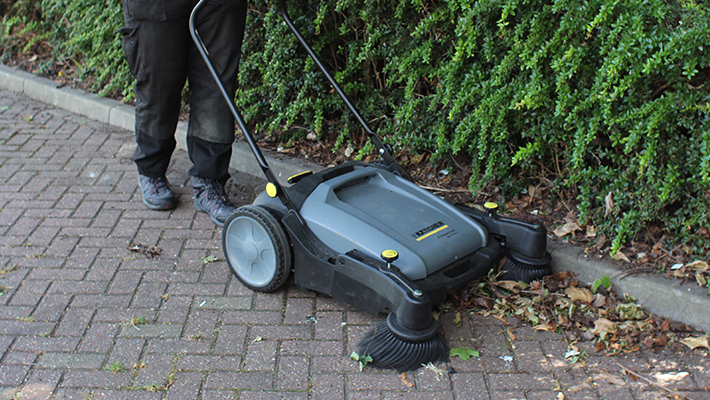 Pressure Washing
High-pressure water jetting is an efficient, economical, and environmentally safe way to clean car parks, service areas, drains, gullies, walls, roofs, signs and much more, including the removal of everything from unsightly graffiti and chewing gum to the general build-up of dirt, grease and algae. Each of our vehicles are fitted with industrial high-pressure water jetting units which allow for both hot and cold pressure washer cleaning and steam cleaning. The Dibo jetting units are also much quieter than those generally used by other cleaning contractors and therefore reduces the level of noise in the area where the cleaning is taking place.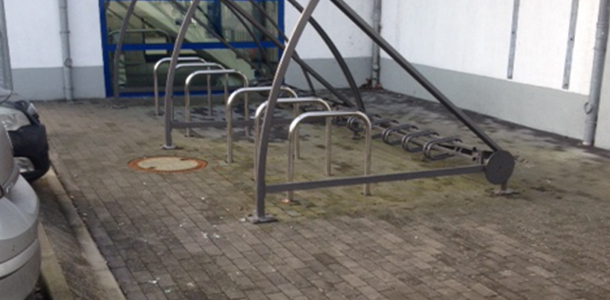 Before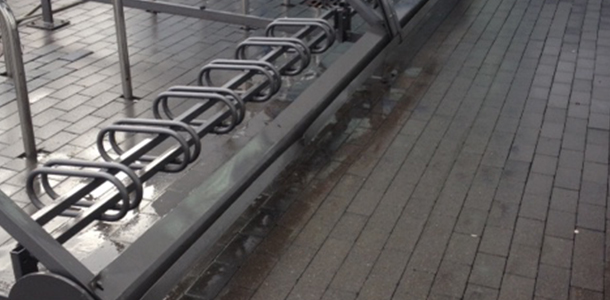 After
Roof Cleaning
The damp climate in the UK can create the perfect conditions for moss, algae, lichen, mold and mildew to thrive on a roof. Algae and other types of build-up often form on the north and west parts of roofs that are shaded or receive less sun, and can reduce a roof's life expectancy. The presence of soot, dirt, or biomass can affect how much sunlight is absorbed by a roof and thus the amount of heat a building absorbs. Not only does moss look unsightly but it can also cause other problems such as gutters and downpipes becoming blocked. Cleaning can extend the duration of a roof's ability to function and helps reduce on going maintenance costs.
After surveying the roof, and the correct method of cleaning is identified, risk assessments and method statements are drawn up. We operate high level access machinery to access roofs using our fully trained working at height trained operatives.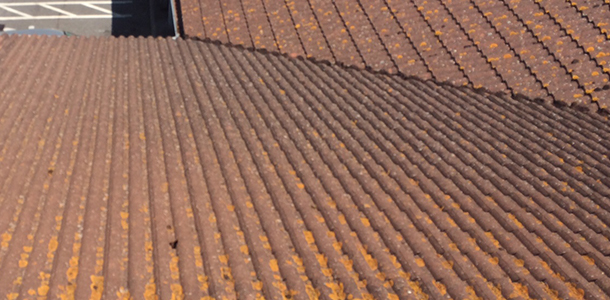 Before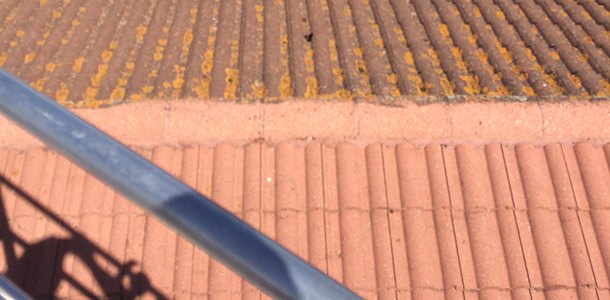 After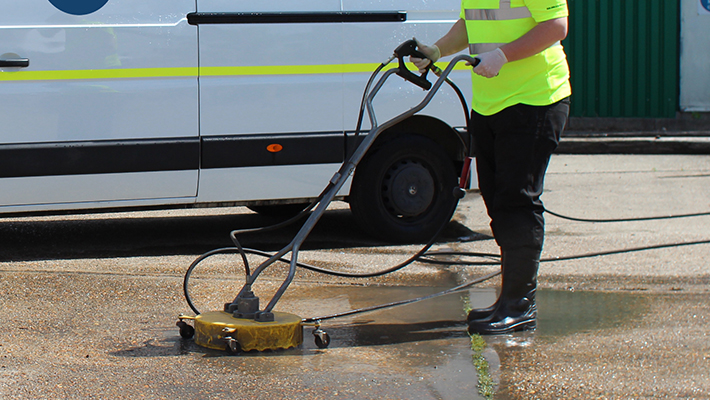 Flat Surface Cleaning
A Whirlaway Flat Surface Cleaner makes it quick and easy for the operator to clean walkways, patios, decks, driveways, sidewalks and car parks without the need for high pressure washing and operates with reduced water consumption. It is versatile and is particularly useful when working where there is restricted space or around parked vehicles.
Steam Cleaning
The benefits of using steam on your buildings cleaning project is the fact that no harsh pressure is used to clean the substrate and therefore no damage can occur. Using our own equipment, with large capacity water tanks, our fully trained operatives can clean a number of different surfaces.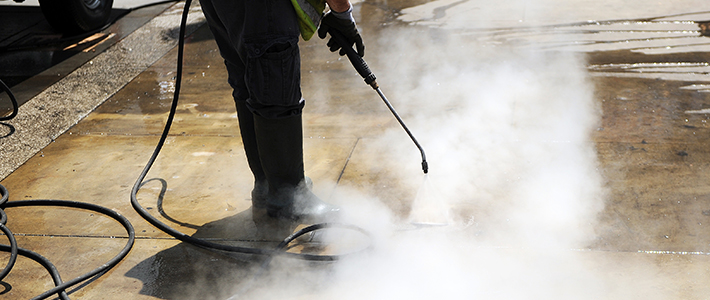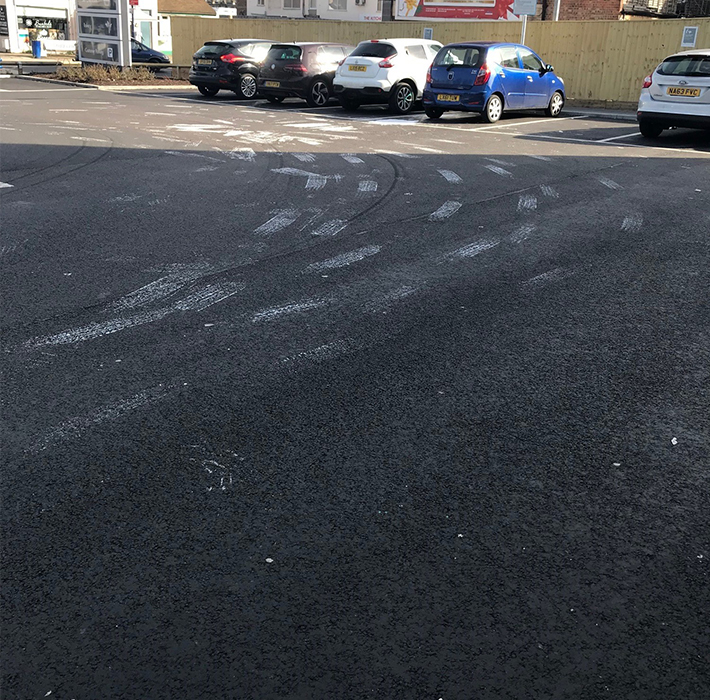 Spillage Cleaning
Accidents can happen unexpectedly for example paint, oil, diesel spillages and if not cleaned quickly and professionally they could cause further damage to your property or pose a health & safety risk.
Pro-Sweep Services vehicles are fitted with pressure washing units where, after considering the type of spillage either hot or cold pressure washing will be carried out to restore the area.
Leaf Clearance
External areas of your site can look unsightly with the build up of fallen leaves, particularly during the autumn and winter months, and in addition can cause blockages to external drains and gullies if not cleared regularly. We have a range of equipment from hand held Stihl leaf collectors to machine operated lawn and litter vacuum machines that can tackle small areas through to larger landscaped areas.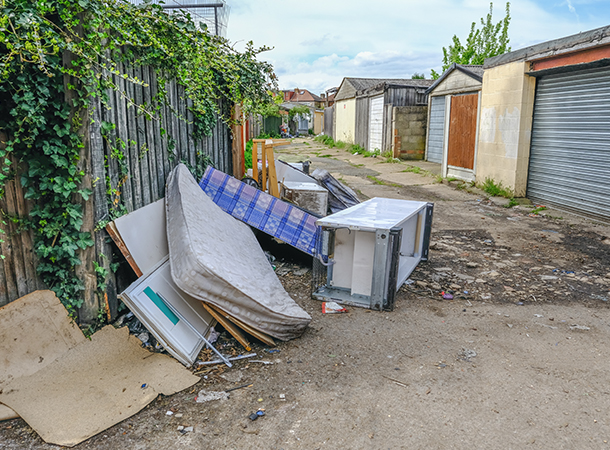 Litter Clearance
A build-up of litter can be unsightly and can spoil the appearance of your premises. We cover a range of litter clearance options such as:
Fly tipped rubbish clearance
General rubbish clearance includes both internal and external areas
Void building clearance
White goods removal
Dumped tyre clearance
Our specialist waste management trucks can deal with all aspects of waste management including the responsible disposal of materials. All trucks are caged both to secure and contain the load. We have a mix of both flat bed and tipper trucks giving us flexibility for all types of rubbish clearance.